Hello Everyone,
This question came in from my friends out in California.(I'm not sure if they wanted to be named and I haven't asked them yet.)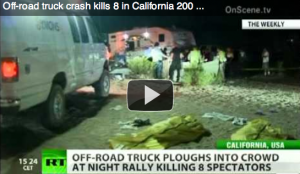 They had many patients and only their small team of volunteer rescuers without transportation services to organize a serious mass casualty incident.
They were on scene first when an all terrain racing vehicle left one of the desert roads and launched into a crowd of spectators.  There were many killed, many more injured and to top it all off, no response from EMS transportation services for more than an hour!  The team of volunteers had to work fast and hard to help organize absolute chaos. They were wondering if I could share my opinion on how to organize bystanders and volunteers during a situation like this. In this RoyOnRescue episode I give some of my ideas combined with advice from several of my colleagues working in dispatch, quality assurance, risk management and EMS response.  My answer to how to organize volunteers and bystanders to help in a triage situation where there are mass casualties took a total of two videos in order to fit them onto YouTube.  There's a lot covered here but I really have only scratched the surface of a very important topic.  I hope it helps.  If you need me to spin off onto one given section of this subject and cover it more in depth, please email me at:  RoyOnRescue@gmail.com.
Best Wishes,
Roy
RoyOnRescue.com
Part 1

Part 2