just received a question from a student who asked: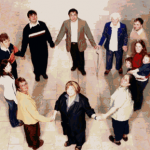 Dear RoyOnRescue,
"In thinking about the use of an AED, what if the person is a woman and we have to "bare the chest".   Should we place the AED pads under the shirt, or do we have to actually bare the chest for proper use of an AED?"
-CH
This is a good question and one that is uncomfortable for some to think about.  Whenever a rescuer is working on a patient, male or female,  a rule of ethics applies.  We as rescuers should be thinking about the dignity and respect of the patients privacy and confidentiality at all times.  This includes times where we may have to "Bare" the chest of the victim in order for us to defibrillate or treat them.  We should seek to be discrete as long as we are able to get the job of rescue accomplished without delay.   If the person is able to be defibrillated without full removal of the clothing that's great.  If the person needs to have shirt or underclothing cut or removed in order to defibrillate properly than that will need to be done.  If there are bystanders, those bystanders could turn their backs to the patient and try to make a human curtain around the patient in order to protect the patients privacy and dignity.  Think about if this is in a public workplace or location where the person is known.  They may survive if everything goes the way it should and if they do, they will probably return to this workplace.  We must make sure that as far as we can control, we protected their dignity and helped them as much as possible without complicating or slowing down the rescue process.
I hope this helps.
Best Wishes,
Roy
www.royonrescue.com
royonresccue@gmail.com