We had a student write in about different situations that can make it really difficult to do CPR and use an AED on someone.  I thought I'd include the scenarios and then give a little help on some ways to make it all go as well as possible.
royonrescue@gmail.com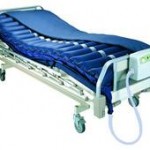 The person writes: I have patients in oversized  beds, usually air beds.  I am a nurse in a nursing home and have this discussion frequently with my CNA staff so they know what to do.  You'd be surprised how many licensed staff attempt CPR in a bed.  Question, can an AED be used on a person with a pacemaker or indwelling defibrillator?
-Help?
Well, these two different situations do throw a small curve ball but nothing that we can't work through together.   First, let's talk about the airbeds.  In the medical field, we are constantly finding ways to decrease bed sores and pneumatic air beds are one of them.  When a patient needs CPR compressions there is a golden rule that shoulds be followed.   Chest compressions work best on a hard flat surfaces.  This does not mean that the patient must be moved to a different surface everytime, but it does mean that the surface must be hard/stiff and flat in order to maximize the depth and consistency of the chest compressions.
With airbeds, we usually see them built with a deflate or CPR button?  Or a way to deflate them quickly.  Even the air/sand beds have this feature so make yourself familiar with it and you will instantly have that hard flat surface we are talking about.  If it is a normal hospital or patient bed and the person is not able to be moved safely to the floor, we should have quick access to a CPR board or a back board which will usually stiffen the surface enough for good compression depth.  It's always a good idea to practice all of these steps to make sure you know just what you are going to do if the emergency arises.
Secondly,  Defibrillators of every type are able to be used with internal pacemakers and internal defibrillators.  When we place the pads of a defibrillator on  a person's chest, the placement is usually upper right pectoralis region and left lower mid axillary chest.  This will be below the left pectoralis muscle  or breast and mid line with the left armpit.  See http://www.ProCPR.org under AED video training for a demonstration.  If the Pads or paddles are placed in these locations, they will clearly miss the most popular location for an internal defibrillator or pace maker.  Even if for some strange reason the pacemaker is in an abnormal location and you will have to place the pad over the device.  Be sure to seal it to the chest well and follow the AED training procedures.  We would want to move necklaces from the path of electricity and we will wipe off any nitro paste or other medicine patches from the area's we place the electrode pads.
If you work in a hospital setting, be sure to ask your educators what the hospital or facility procedure or protocol is if you have any doubt on this advice.
I hope this was helpful and keep the good questions coming.  I'll be looking forward to your emails.
Best Wishes,
Roy
Roy W. Shaw, EMT-Paramedic
RoyOnRescue.com