I wanted to update everyone on the progress of the ProTrainings update video shoot.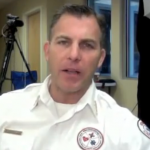 I had come in early one morning and thought I'd have a cup of good coffee and let you see the on-site video location where the production team and I were shooting the new updated video trainings for the ProTraining websites. It's important for ProTrainings to be a leader in the area of this type of training and though the video trainings are not required to be updated for a long time, we thought we'd get them out to you as soon as possible. If there's enough benefit to change the guidelines then there's enough benefit to get them to the ProCPR.org and ProFirstAid.com students as fast as possible.
On a side note, the production team and I have been having a lot of fun while working really hard on the set. I hope you'll like some changes we've made for the new guidelines and I know that the team and I are very excited to get these updates edited and uploaded to our website in the next month or so.
Feel free to email me any questions you may have about what goes into our video production of these trainings or what it's like behind the scenes at ProCPR.org and ProFirstAid.com.
Until next time,
Be A Rescue Hero For Someone's Loved One,
Best wishes,
Roy